TSS (Tsebo Site Solutions), a subsidiary of Tsebo Catering Solutions, was one of two external service providers to receive a Special Management Award during Eskom Kusile's Power Station Management Awards Ceremony held on the 12th of October 2022. TSS was recognised for its special Corporate Social Investment participation within the Nkangala district on Mandela Day 2022.
"We are honoured to have received this special award. Caring for the communities in which we operate is part of our Tsebo values as we strive to achieve our purpose 'to develop people, to serve people and to uplift society", says Jackie Mehlomakulu, Group Transformation Executive. "The recognition from our client shows that our people are 'living' the Tsebo values and are ambassadors for our brand."
To encourage participation and excitement, the TSS Kusile team devised their own motto for the day: 'Supporting the youth to safeguard our future'. In partnership with the client and local NGOs, the team participated in two drives to support the local community's youth.
Firstly, the team partnered with Kusile Power Station to support the Madressa Tul-umar Charity Home – an orphanage that provides refuge for 45 children aged three months to 21 years old. In addition to catering lunch for over 65 people on the day, the TSS Kusile team donated 55 000 rands worth of groceries to the home.
The children have all faced hardships in their young lives, ranging from being abandoned at birth, orphaned or even being victims of rape and abuse. The orphanage started in 2003 when Ayisha Sonto decided to provide a haven for two kids who had lost both parents.
Secondly, the TSS Kusile team contributed to a learners Gender Based Violence (GBV) outreach campaign hosted by Men for Change, SAPS Woman's Network and Vosloo SAPS. Children from nine schools in the Emalahleni region attended. TSS catered for over 250 attendees, serving delicious, healthy and hearty prepacked meals.
The learners were addressed on GBV and other topics, including bullying, teen pregnancies, and drug abuse. The speakers connected with learners by sharing their own life experiences and informed them about the available platforms in case they needed to seek guidance or help.
"The time spent during both opportunities was a humbling experience and the reward on its own, says Mashilo Diala, Segment Director – Tsebo Site Solutions. "We have gained the utmost respect for organisations and charities who continuously and tirelessly work to improve the community for our youth and provide support and guidance for those in need. Our Tsebo purpose statement, inspires and drives our employees to get involved and to make a difference alongside our community partners."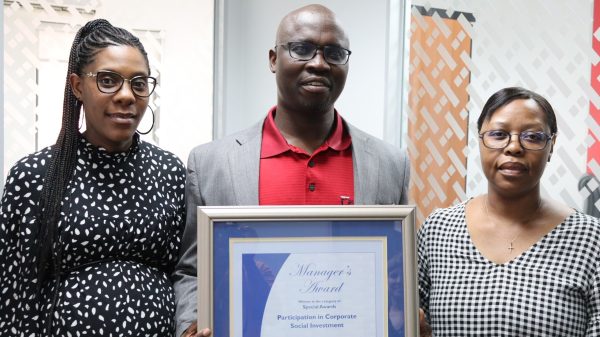 From left to right:
  Cynthia Mothibe – Group CSR Manager;
Mashilo Diala – Segment Director, Tsebo Site Solutions;
Jackie Mehlomakulu – Group Transformation Executive.

Please contact us for more information